Tony Brenna
Tony Brenna is a veteran journalist who has worked for a broad spectrum of publications in both the UK, his native land, and the US, his adopted home.
He previously published a biography of one of the stars of the Dallas television series (Victoria Principal, St. Martin's Press, 1989).
He worked as editor and reporter for local weeklies in Surrey (England) and on London's Fleet Street where he worked as a reporter on national daily and Sunday papers. He rose through the ranks from reporter to executive editor during his time at World's Press News, the trade journal of the British press. As Deputy Editor of Creel, the UK's first full color monthly angling magazine, he commissioned and edited articles, as well as handling layout.
In New York, he covered the United Nations and US national news for The Daily Telegraph, the Daily Mail, and the BBC World Service as an on-air correspondent. His time there included reporting for the "Herald Tribune" and becoming Associate Editor at Editor & Publisher, the trade journal of the American press, interviewing senior editorial management about the newspaper business.
Recruited by the National Enquirer, he was based at the paper's Florida headquarters where he became a senior reporter, roving editor, and Hollywood correspondent. He moved to Los Angeles where he continued to work for the Enquirer. Later, he was West Coast correspondent for the Daily Mail. He's contributed news and features to newspapers and magazines in Germany (Gong, Bild), Brazil (O Estado de Sao Paulo), Australia (Woman's Day), the UK (Sun, News of the World, Mail on Sunday, Daily Mirror, Sunday Mirror), and the US (Star, Globe, Life & Style).
As a weekly columnist, he wrote about Madison Avenue for Britain's Advertiser's Weekly and celebrity news for New Zealand Woman's Weekly, where he also contributed features. With a Canadian psychic, Tony created the world's first "psychic gossip" column that appeared for ten years in the Sunday sections of the Toronto Sun, London Free Press, Ottawa Sun, and others in the Sun group.
While living in LA, Tony appeared on shows such as "Hard Copy" and "Inside Edition." Recently, he was prominently featured in the Emmy-nominated CNN documentary Scandalous: The Untold Story of the National Enquirer (2019).
He now lives near Seattle, Washington with his wife, writer Elena M. Rodriguez.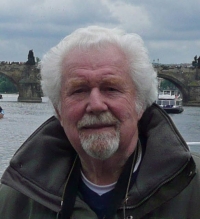 HERE